Easter Bunny Bread Bowl. Free UK Delivery on Eligible Orders Check Out Easter Bunny On eBay. Check Out Great Products On eBay. Poke a tiny hole for the eyes and then gently place the chocolate chip eyes in place.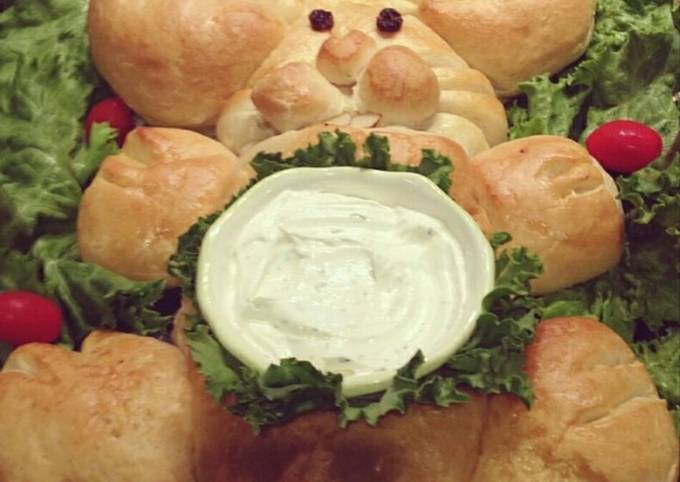 I found this years ago and look forward to making it every year for Easter. It looks difficult but it's really simple. Put spinach, artichoke hearts, cream cheese, sour cream, Parmesan cheese, garlic powder, kosher salt and red pepper flakes in a food processor or blender. You can cook Easter Bunny Bread Bowl using 6 ingredients and 16 steps. Here is how you cook that.
Ingredients of Easter Bunny Bread Bowl
It's 2 of loaves (1 pound each) frozen dough thawed.
It's 2 of raisins or craisins.
You need 2 of sliced almonds.
You need 1 of egg beaten.
You need of Leafy lettuce leaves.
Prepare of Your favorite dip for veggies.
As you ready the menu for your family's holiday meal, here's a fun way to serve your Simply Savory dip: an Easter Bunny Bread Bowl! We've made this recipe with Spinach Artichoke dip, but you can use any one of our dips to enjoy with this adorable bread bowl! It was fun to make and added a point of conversation to the table. I filled it with my spinach cob dip and served with carrot and cucumber sticks.
Easter Bunny Bread Bowl step by step
Cut a fourth off of 1 loaf of bread dough. Shape it into a pear shape for the head..
Flatten the remaining of that loaf into a 6 inch x 7 inch oval..
Place the head on a greased flat cookie sheet. Then place the body under the head. Gently pinch dough at seams and smooth dough.(Don't use a rimmed cookie sheet because you will need to gently slide it off then onto a serving platter).
With a sharp knife make 2 narrow cuts in the head, about 3/4 inches deep to make the whiskers..
Cut your 2nd loaf into 4 equal portions…
Make the ears by forming 2 of those portions into 16 inch ropes. Fold each one in half and place the open ends on top of the head. Again gently pinch seams together and smooth dough..
Now take the third portion and cut in half. Shape each into a 3 1/2 inch oval to form the back paws. Cut two 1 inch sits on top edges for the toes. Position these two paws on lower part of body on each side. (Pinch seams and smooth).
With the last portion of dough cut this into 3 pieces. Shape 2 pieces into two 1/2" balls. Place them on each side of the top part of the body for the front paws. Cut two 1 inch slices for toes. (Pinch seams and smooth).
With the rest of the dough you will make 2 cheeks by forming 1 inch balls. Then a 1/2 inch ball for the nose. Place those on the head between the whiskers..
Add the raisins or craisins for eyes and the almonds for the teeth..
Brush dough with egg..
Cover bunny with a towel and allow to rise in a warm place until doubled in size. (30-60min or until doubled).
Preheat oven to 350°F. Remove towel and bake for 25-30 min or until golden brown..
Remove from oven and allow to cool..
Slide bunny bread on a lettuce lined serving platter. Cut a hole in the tummy to fit your serving bowl. Place bowl in tummy hole and fill with your favorite dip..
Place your favorite veggies around the bunny and serve!.
The kids thought it was super cute. Use the photo to guide you with placement of the bread ears and head. So why not resort to a simple dish or recipe? The following idea made by Amy (a mother to five children) is as simple as it can get in the kitchen. The Bunny Bread Bowl is exactly what its name says: a bowl made from bread […] Place bread on a serving tray.
source: cookpad.com