Broccoli and Thai pesto stir fried rice. Call For Our Thai Dishes Now! In another pot, boil the broccoli florets. Instructions Add the olive oil to a large nonstick skillet set over medium heat.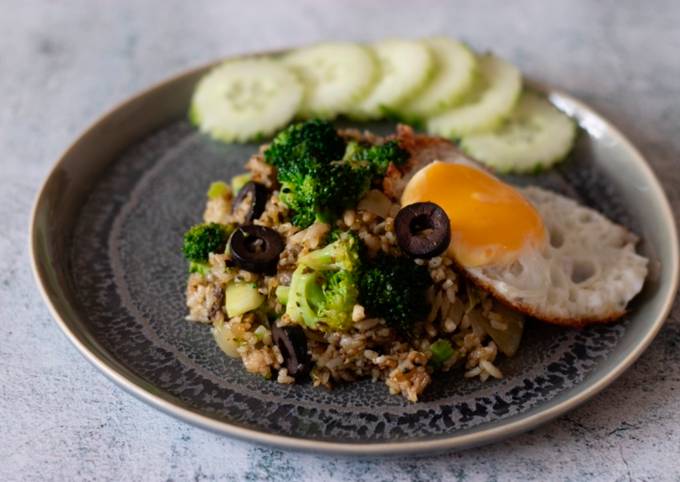 Add in the carrot and mangetout. My name is Xiao Wei and my goal is to make your cooking simple and exciting. Heat a large wok over high heat. You can have Broccoli and Thai pesto stir fried rice using 13 ingredients and 7 steps. Here is how you cook that.
Ingredients of Broccoli and Thai pesto stir fried rice
Prepare 1 cup of cooked rice.
You need 1 of onion, small dices.
You need Half of medium size broccoli 🥦, finely chopped.
You need 3 tbsp of green pesto.
Prepare 4-5 of black olives, finely chopped.
You need 2 of spring onions, finely slices.
You need 2 tbsp of soy sauce.
It's 1 tsp of sugar.
You need 1 tsp of ground pepper.
It's 1 tbsp of cooking oil.
You need 2 clove of garlic, finely chopped.
It's Half of cucumber, thinly sliced.
It's 1 of egg (optional).
Once the oil begins to smoke, add the broccoli florets and stems. Remove the saucepan from the heat. Add the walnut pesto or pesto of choice a ¼ cup at a time into the broccoli rice and give it all a good stir. Stop when you think enough pesto has been added (this will be a personal taste).
Broccoli and Thai pesto stir fried rice step by step
Add cooking oil in a wok or pan, medium heat.
Add garlic, stir until it starts turning to golden brown.
Add onion and pesto, stir well for a few mins.
Season with soysauce, sugar, ground pepper then add rice in and mix well.
Add broccoli and black olive, quick stir for a few mins.
Fry an egg on another pan.
Serve this yummy rice on a plate with fried egg and cucumber.
I usually stir-fry my Broccoli in olive oil with garlic, salt and pepper but today I added a big dollop of homemade pesto to it. I loved the burst of Basil flavor against the crunchy sweetness of Broccoli and how it made already green stir-fry a little greener! Heat a large wok or non-stick pan to a high heat. Once the oil is hot, add onion, garlic, and carrot. Top with halved cherry tomatoes and a fried egg.
source: cookpad.com