Chicken Fried Rice. Heat a little more oil, add the stir-fry veg, curry powder and sweetcorn with a splash of water. Add the last of the oil to the pan, tip in the rice and chicken, mix well, then add the soy sauce, sweet chilli, ketchup, a splash of water and some black pepper. Feel free to use cooked white rice, but make sure it's cold before making this dish.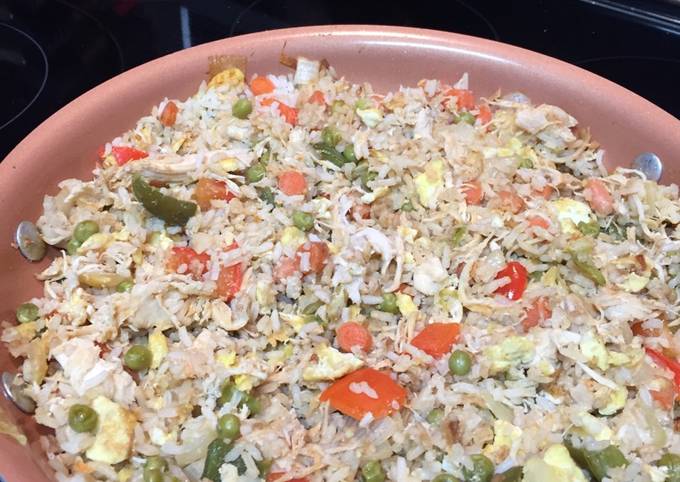 Stir-fry until the peas have defrosted. Squeeze the rice pouch a few times to break up the rice, then add the rice to. Push rice to one side of pan and add remaining tablespoon sesame oil to other side. You can cook Chicken Fried Rice using 12 ingredients and 3 steps. Here is how you achieve it.
Ingredients of Chicken Fried Rice
It's 1/2 of green & 1/2 red bell pepper, diced.
Prepare 1 of onion, diced.
You need 1 cup of diced carrots.
Prepare 3 cloves of garlic, minced.
Prepare 3 tbsp. of Oil (your choice of oil).
Prepare of Small can green peas,drained.
It's of Small can water chestnuts (optional) drained.
You need to taste of Soy sauce.
You need of Sesame oil to taste (I use quite a bit. It adds a lot of flavor).
It's of Cooked chicken breast (I use pre cooked chicken, shredded).
Prepare 1-2 cups of about.
You need 2 of eggs, wisked.
Add egg and stir until almost fully cooked, then. Amazing chicken fried rice that is better than take out! This chicken fried rice has moist and tender chicken with flavorful peas and carrots and long rice cooked together. Make this unique and your own with this favorite Chinese rice!
Chicken Fried Rice step by step
Sauté all the veggies in oil till soft. Add garlic & stir in..
Move veggies to sides of pan creating a circle in the middle. Pour eggs in the circle, salt & pepper. Stir eggs till cooked &mix in with veggies. Add cooked rice, mix & cook about 10 minutes. Add chicken & mix all together. Add sesame oil to taste & add soy sauce to taste..
Add drained peas & cook 5 minutes. Enjoy !!.
Course Dinner, Main Course How to make chicken fried rice. Full recipe with detailed steps in the recipe card at the end of this post. Soften a chopped onion in the wok in a little oil. Then add chopped red pepper, garlic and peas and cook for a couple of minutes. Add cooked shredded chicken, a splash of sesame oil and cold boiled rice.
source: cookpad.com