Chicken Pot Pie Casserole. I always have leftover chicken broth on hand and use it for many things, including this comforting and easy chicken pot pie casserole. You can bake your own biscuits, like I do, or buy them at the store. I like to bake extra biscuits to eat with butter and jam. —Liliane Jahnke, Cypress, Texas Mix vegetables, cream of mushroom soup, and chicken together in a bowl and spread over the crust; top with bread crumbs.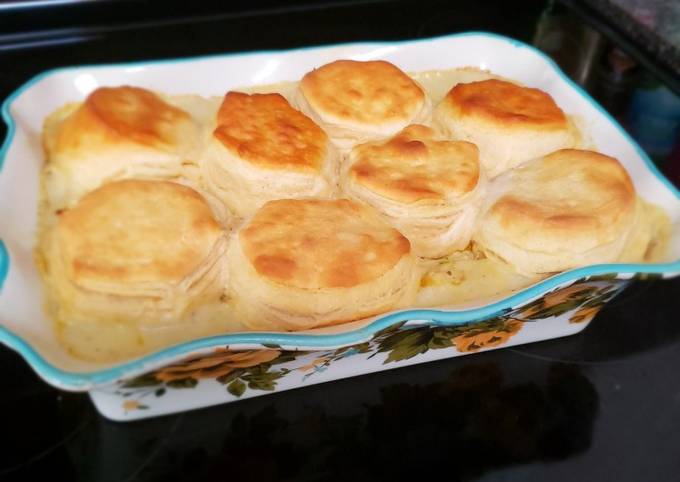 Stir and cook until ingredients are warm. The sauce will thicken and you can add a little more water until desired consistency is reached. Next, pour the chicken mixture over baked crust and spread evenly. You can cook Chicken Pot Pie Casserole using 15 ingredients and 5 steps. Here is how you achieve that.
Ingredients of Chicken Pot Pie Casserole
Prepare 2 Tbsp of Vegetable Oil.
Prepare 1 of Onion (chopped fine).
Prepare 1/2 cup of Carrots (chopped).
You need 1/2 cup of Broccoli (chopped).
It's 1/2 cup of Cauliflower (chopped).
Prepare to taste of Salt & Pepper.
You need 4 Tbsp of Unsalted Butter.
Prepare 1/2 cup of All Purpose Flour.
It's 1 1/2 cups of Milk.
Prepare 2 cups of Low-Sodium Chicken Broth.
Prepare 1 can of Cream Of Chicken Soup.
Prepare 1/2 tsp of Dried Thyme.
You need 2 cups of (around 1 lbs) cooked, shredded Chicken.
It's 3/4 cups of Frozen Peas (thawed).
Prepare 1 pkg of refrigerated Pilsbury JUNIOR Grands Biscuits (8 count).
In a large pot over medium high heat, add half a stick of butter, onions, garlic, rosemary, thyme, salt and pepper. Add vegetables and chicken to the mixture and heat. What is Chicken Pot Pie Casserole? Chicken pot pie casserole is just like classic chicken pot pie made with chicken, carrots, celery, peas, mushrooms, and a creamy sauce, but made in a giant casserole dish with a rice base instead of biscuits.
Chicken Pot Pie Casserole instructions
Preheat oven to 400°.
In a large pan, heat oil to medium-high heat. Once oil is hot, saute vegetables until tender (about 5-7min.) Season with salt and pepper to taste. Transfer vegetables to bowl with chicken, set aside..
Reduce the heat to medium and add the butter to the same pot. When melted, add flour and stir constantly for about 1 minute. Whisk in milk, chicken broth, soup and thyme. Allow sauce to come to a simmer and simmer for 1 minute to thicken. Season with salt and pepper..
Take off heat and add chicken and vegetables. Mix filling thoroughly. If filling is too thick, add milk and broth..
Pour into a 13×9" baking dish and bake for 18 minutes. Remove from oven and top with 8 raw biscuits. Return to oven and bake additional 10-12 minutes until biscuits are golden brown and filling is bubbly. Cool for 5 minutes before serving..
Whisk/stir together the cream cheese, cream of chicken soup and nonfat milk until combined (small chunks of cream cheese may not incorporate). Stir in vegetables, chicken and pepper. Chicken Pot Pie Casserole features a classic filling of tender chicken, potatoes, carrots, and peas in a savory gravy topped with fluffy homemade drop biscuits! This chicken pot pie casserole is made of a creamy base loaded with vegetables and chicken, topped with buttery, flaky biscuits. It's an easy dinner recipe that even the pickiest eaters will love.
source: cookpad.com