Broccoli Cheese Soup. Cook onion in butter until softened. Mix in milk and garlic powder. Meanwhile, melt the butter in a pot over medium heat.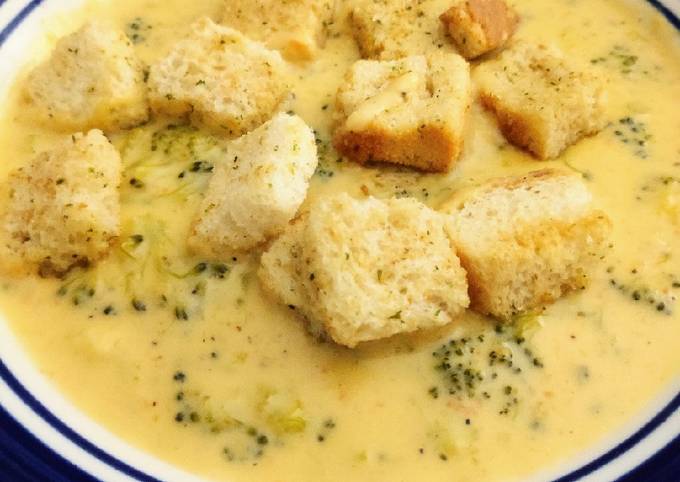 In the same saucepan, saute onion in butter. Add flour and stir to make smooth paste. Stir in cheese and allow to melt. You can cook Broccoli Cheese Soup using 17 ingredients and 7 steps. Here is how you achieve that.
Ingredients of Broccoli Cheese Soup
You need of Butter.
It's of All-purpose Flour.
It's of Fresh Broccoli (Chopped In Small Pieces).
You need of Onion (Diced).
You need of Carrots (Grated or Julienned).
You need of Garlic (Minced).
It's of Chicken Broth.
You need of Whole Milk (Or Half and Half).
You need of Chicken Bouillon (Optional)(Use Less Salt If Using).
Prepare of Mustard Powder (Optional).
Prepare of Garlic Powder (Optional).
You need of Onion Powder (Optional).
It's of Cream Cheese (Optional).
You need of Shredded Cheese (I prefer Sharp Cheddar).
It's of Salt (To Taste).
Prepare of Black Pepper (Or To Taste).
It's of Veg Oil.
Taste seasonings and adjust if needed. Then either serve as is, or mash it with a potato masher to break up the broccoli a bit, or transfer to a blender in two batches and puree completely. Puree the soup in batches in a blender until smooth; you'll still have flecks of carrot and broccoli. Return to the pot. (Or puree the soup in the pot with an immersion blender.) Add the cheese to.
Broccoli Cheese Soup step by step
Cut off the majority of the Broccoli Stalks off the Florets. Cut Florets into small bite size pieces. Mince or thinly slice Stalks. Set aside..
Heat Veg Oil in a big Soup Pot over Medium to Medium High Heat. Add Broccoli Florets. Lightly Salt. Allow to cook until there is a slight char on the bottom, then stir to expose other Florets to the bottom of the pan. Allow them to char a bit. Keep stirring until Florets are charred on a few sides, but still Bright Green. Pour Broccoli onto a cookie sheet or in a large bowl to cool. Set aside..
In the same Soup Pot, Add Butter over Med Heat. Add Onions and Broccoli Stalks. Lightly Salt. Cook until Onions are translucent and slightly soft, stirring occasionally. Stir in Minced Garlic. Cook for about a minute, or until fragrant. Add Grated Carrots. Cook for another 1 or 2 Minutes..
Add the Flour, stirring constantly. Cook for 1 or 2 Minutes, then whisk in the Chicken Broth, stirring constantly. Stir in Milk, Chicken Bouillon, Mustard Powder, Garlic & Onion Powder. Turn Heat up to Medium High to bring to a boil. As soon as it reaches a boil, turn down Heat again, and bring to a simmer..
Turn off Heat. With an Immersion Blender, (Or use a Standing Blender) blend soup until smooth. You can skip this step, if you prefer a chunkier soup. Then while the Immersion Blender is running, start adding in the Shredded Cheese and Cream Cheese. Blend until all the Cheese is incorporated. Now, stir in the Broccoli. Pulse a few times to break up the Broccoli. You can also skip this step, if you prefer your Broccoli whole. Taste for Seasoning..
Turn Heat back up to Medium, and cook until Soup is Hot again. Turn Heat down to Low to keep Warm. Serve with your favorite Croutons or Crusty Bread. Enjoy!.
Tip: If you'd prefer to skip using flour, you can cube a large potato and cook it in the soup. Once soft, crush and stir or blend into the soup..
Instructions Melt butter in pot over medium-high heat. While whisking, slowly pour in milk then chicken broth. Add the broccoli, carrots and the sauteed onions, into the pot. Stir, add the milk and half & half. For best results, don't use pre-shredded, packaged cheese; shred the cheese directly off a block.
source: cookpad.com