'On the Mark' Split Pea Soup. Easy, Fast And Secure Booking With Instant Confirmation. Here is how you cook that. Instructions to make 'On the Mark' Split Pea Soup: Method Heat the oil in a large, heavy-based pan over a medium-low heat.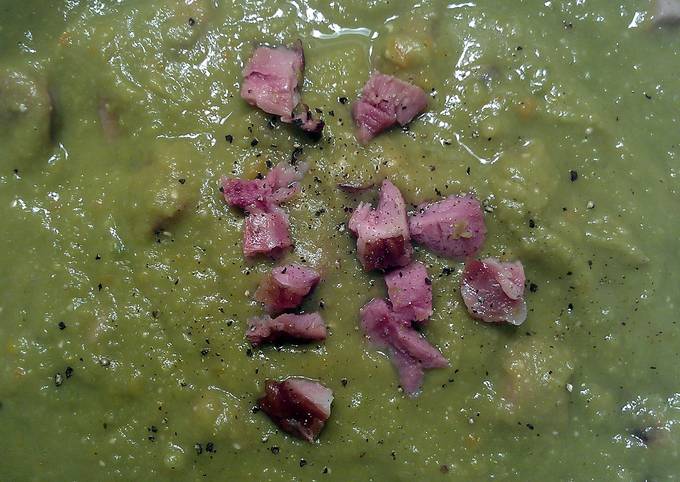 Add the coconut milk and simmer until the soup. Split Pea Soup Rinse peas and drain well. In a large pot, combine peas, ham, water, broth, parsley, and bay leaf. You can have 'On the Mark' Split Pea Soup using 9 ingredients and 6 steps. Here is how you cook it.
Ingredients of 'On the Mark' Split Pea Soup
You need 1 lb of dry green peas.
Prepare 2 quart of stock.
Prepare 2 stick of celery.
Prepare 2 cup of chopped carrots.
You need 1/4 tsp of salt.
It's 1/4 tsp of black pepper.
Prepare 1 of ham hock.
It's 1 cup of yellow onion.
Prepare 1 of 1bay leaf.
Bring to a boil, reduce heat to low, and simmer. Add in celery, carrots, onion, pepper, thyme, and salt. Remove ham bone and chop meat. Stir in yellow and green split peas, stock and bay leaf; season to taste.
'On the Mark' Split Pea Soup instructions
Heat cooking pot with olive oil (med). Chopped onion, celery, and carrots and add to cooking pot..
Saute veggies for 10 mins, add stock/broth, bay leaf, and ham hock..
Bring broth to boil, then simmer on med low for 60 mins or until lentils are soft..
When lentils are soft, remove bay leaf(s). Remove ham hocks and set aside to cool..
Pour cooking pot contents into a drainer to allow the liquid to separate from the lentil and veggies..
Put lentils and veggies into a food processor until smooth. Season with salt and pepper. If soup is too thick, add some of the drained out liquid. Chop ham and add to soup..
Purée warm soup with a blender or food processor. Return to pot, heat through and serve. Tip: Make this soup vegan by using vegetable stock. Instructions In a large pot over medium high heat add the butter and let it melt. Add the onion, carrots, celery, and garlic.
source: cookpad.com