Terry's chocolate orange cheesecake. Put the Hobnobs in a bowl and crush with the end of a rolling pin until. And what better way to honour that combo than by creating a Chocolate Orange Cheesecake. And not just any Chocolate Orange Cheesecake, but a Terry's Chocolate Orange Cheesecake.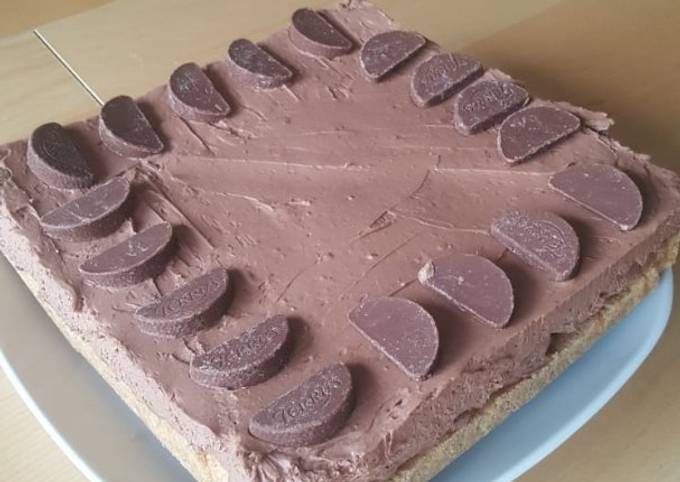 Soak the gelatine sheets in a bowl of cold water. Zest the orange and reserve half the zest, covered, for decorating. This cheesecake is made up of a buttery biscuit base, creamy chocolate orange filling with chocolate orange bits, fresh whipped cream and more Terry's Chocolate Orange tastyness on top. You can have Terry's chocolate orange cheesecake using 9 ingredients and 8 steps. Here is how you cook that.
Ingredients of Terry's chocolate orange cheesecake
Prepare 300 g of Terry's chocolate orange – approx. 2 whole choc oranges (you could use dark for a slightly less sweet pud).
Prepare 350 g of digestive biscuits, finely crushed (the original recipe stated double choc cookies but that's a bit too much choc for me! Digestives every time).
It's 120 g of butter (melted).
It's 1 (240 g) of tub mascarpone.
It's 1 (400 g) of tub Philadelphia cream cheese.
It's 100 g of icing sugar (I reduced the original 150g as it seemed too sweet).
Prepare 3 tablespoons of cocoa powder.
You need 1 tsp of vanilla extract.
It's 300 ml of double cream – whisked until just forms stiff peaks.
And as with all my recipes, this cheesecake is vegetarian friendly so it is gelatine free. You could make this cheesecake with milk chocolate, and a little orange extract. You could even use cocoa instead of chocolate, or dark chocolate instead of milk for a much richer flavour. Honestly though, it's really easy to just melt a chocolate orange down and stir it in.
Terry's chocolate orange cheesecake step by step
Mix crushed biscuits with the melted butter in a large bowl until completely combined..
Press into a greased 8 inch square tin (spring base if poss). Make sure you get it into all the nooks and crannies. Flatten and compress it to make sure it sets as a solid base for your cheesecake mix. Put this in the freezer whilst you make the orange filling..
Melt the Terrys' chocolate orange pieces gradually in a bowl in the microwave – stir after a minute, then 2, then reduce to every 30 seconds until melted. Put to one side to cool a little..
Spoon the mascarpone, cream cheese, vanilla essence,cocoa powder and sieved icing sugar into a large bowl and stir well until completely combined and smooth. Add the melted chocolate and stir well until thoroughly mixed..
Finally, add the whisked cream gently, trying not to beat out the volume by using a figure of eight motion to mix..
Once all the ingredients are combined (try not to eat it all at this stage!), spoon the mixture onto the cooled biscuit base and smooth it carefully so that it is flat and fills all corners..
Place in the fridge and leave for several hours (overnight is best if you can wait that long!!).
When ready to serve, decorate with mini chocolate orange segments (and possibly some cream..….too much maybe? Not for this family!).
The base is made up of crushed chocolate orange digestive biscuits and is simply mixed together with melted butter and pressed into a cheesecake tin until compact. The cheesecake filling is made using the same method I use for all my no-bake cheesecakes. Stir in the vanilla, icing sugar and orange zest and mix until smooth. In a separate bowl, lightly whip the double cream to very soft peaks. Fold the cream into the cream cheese mixture.
source: cookpad.com