Buttermilk Biscuits (Southern). Browse The B&Q Painting Range Today. Check Out our Selection & Order Now. Free UK Delivery on Eligible Orders!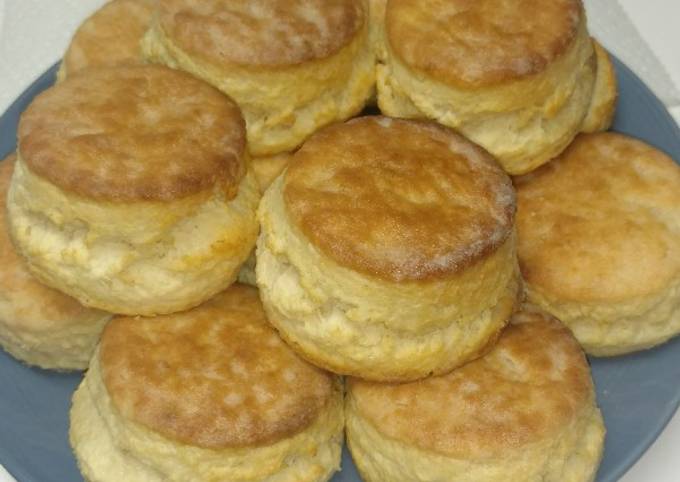 Cut the butter into chunks and cut into the flour until it resembles course meal. If using a food processor, just pulse a few times until this consistency is achieved. Classic Southern Buttermilk Biscuits These Classic Southern Buttermilk Biscuits are light, tender, and the perfect match for a slice of ham, melted butter and honey, your favorite jam, or smothered in country gravy! You can have Buttermilk Biscuits (Southern) using 6 ingredients and 10 steps. Here is how you cook it.
Ingredients of Buttermilk Biscuits (Southern)
You need 3 1/2 cup of WHITELILY self rising flour.
It's 1 tbsp of white sugar.
Prepare 1/2 cup of butter flavor shortening.
Prepare 1 1/2 cup of cold buttermilk.
Prepare 1/2 cup of WHITELILY self rising flour for rolling and dusting.
It's 1/2 stick of melted butter for brushing.
In a large bowl, cut butter into flour until mixture resembles coarse crumbs. Stir in buttermilk just until moistened. Place on a greased baking sheet. In a large bowl, sift together the flour, baking powder, baking soda, salt and.
Buttermilk Biscuits (Southern) instructions
Preheat oven to 450°F.
Using a bowl cut the shortening into the flour and sugar.
Make a well in the center and add the buttermilk.
Stir the flour and buttermilk together just until combined (use a spatula this mix is very sticky) scraping sides of bowl as you go.
Turn dough onto floured surface, dusting more flour on top and begin to spread out dough. Fold four times.
Roll out dough to one and a 1/4 inch thickness and use a three inch biscuit cutter.
Use small amount of shortening to grease your pan.
Arrange biscuits slightly apart from each other (I used the leftover dough to make a special biscuit).
Bake 10 minutes and take out of oven to brush with melted butter then bake an additional 4 to 5 minutes till golden brown.
Brush with additional butter right after they come out of the oven they are soooooooo good ENJOY 😍.
Use a pastry cutter or two forks to cut the butter and shortening into the dry. In a large mixing bowl, whisk together flour, baking powder, and salt. Add butter and cut in with a pastry blender until pea-size clumps form. Create a well in the center of the mixture by pushing the mixture toward the sides of the bowl. Sift together the dry ingredients in a mixing bowl.
source: cookpad.com